So our only bookstore in town, Borders, is closing :(
Boo. We have a couple small ones, but Borders is the only one with any kind of real selection. And I think I've exhausted our library's fiction section (at least the authors I like to read and such- new releases are always seemingly checked out).
So I've decided to look into an e-reader. I've resisted before now because I didn't think I would like reading on a screen. But since now I'll have to order any books I want online, it seems to me that I might as well save on the shipping. And people have told me it's not as bad as I think. Soooo, I think I'm going to ask for an e-reader for Christmas!
The question is though-- which one do I want?
First option would be the
Kindle
...
They are running about $139 from amazon, and I can get a refurbished one for around $100.
The next option, is
Barnes & Noble's Nook or Nook Color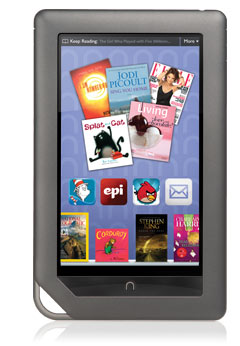 The original Nook runs for $139 and the Nook Color runs for $249. I may be able to find a refurb or used one a little cheaper, I haven't really looked yet.
Then there is Borders' e-reader, the
Kobo
(which it actually looks like they are becoming their own online bookstore with Borders' closing?? Not really sure) It's the cheapest of all, with the Kobo eReader Touch going for about $130.
And so you all know, the iPad is unfortunately not in the running. I just can't justify spending $500+ on something like that. When all I'd use it for is reading and possibly a bit of web browsing, which all the above e-readers can do that.
Sooo, I'm looking for opinions! I'm going to check out some reviews and such, but I'd like to know your all's experiences with any or all of these. Comment & let me know which one to ask Santa for ;)