So I tried a new recipe a few weeks back. I was searching
AllRecipes.com
(awesome site by the way) for some slow-cooker recipes. I absolutely LOVE my crock pot. I love just throwing everything in in the morning then coming home to dinner being done already. Not to mention it's particularly nice in the colder months of Fall & Winter.
However, other than chicken and roast, I haven't cooked a whole lot in it. So during my browsing I came across
this recipe for Slow Cooker Taco Soup
. I tweaked it a bit, for our taste (we aren't huge bean fans), and it turned out completely AWESOME. Definitely will be fixing it again soon!
Here's MY take on the recipe!
You'll need:
1 pound ground beef
1 onion, chopped
1 (15 ounce) can whole kernel corn, with liquid
1 (16 ounce) can seasoned black beans, with liquid
1 (8 ounce) can tomato sauce
2 cups water
2 (14.5 ounce) cans peeled and diced tomatoes
1 (4 ounce) can diced green chile peppers
1 (1.25 ounce) package taco seasoning mix
Step 1- Brown your ground beef (you could also use ground turkey). I did this the night before, stuck it in the fridge, then just dumped it in in the morning.
Step 2- Chop your onion.
Step 3- Add cooked beef, onion, canned corn, tomatoes, peppers, beans, and tomato sauce to your slow cooker. DO NOT drain liquid off first, just dump it all in there!
Step 4- Add packet of taco seasoning and 2 cups of water and stir to mix.
Step 5- Cook on "low" for about 8 hours.
Serve with shredded cheese and sour cream. I also crumbled up tortilla chips in it. :)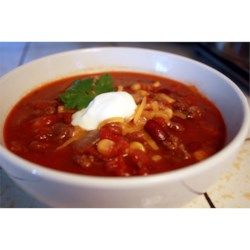 This isn't my photo- it came from the original website. Looks yummy though, right? :)