We had a great weekend with our mamas!
Saturday I went flower-shopping with my sister in law Mandy. We bought Brew's mom matching hanging flower baskets for her porch. In the evening we went to Brew's parents house for a combo Birthday (Brew's and his brother in law AJ's birthday are May 1st and 4th) and Mother's Day dinner/get together. So my mom-in-law's yummy lasagna, cake, ice cream, and family-- can't get any better than that!!!
Sunday was great too... my aunt & uncle & little cousin came in from Columbus to visit, so after church we went to lunch at Outback. (Party of 14! lol... Mom, Dad, my brother Mason, my other brother Matthew, his wife Amanda, my grandparents, my aunt, uncle, and cousin, AND my brother's wife's parents came too-- since they also attend our church) Yeah crazy bunch LOL. Then we went to my brother Matthew's house in the evening. We brought Duke along and he had lots of fun playing with his "cousin"- my brother's dog- Gibson.
So yeah great weekend :)
Maybe it's the really warm weather but I'm getting Spring fever. I've got all these projects I want to get done. I want to get the porch spruced up ...with flowers and I'd LOOOOVE to have one of those free standing swings- like this: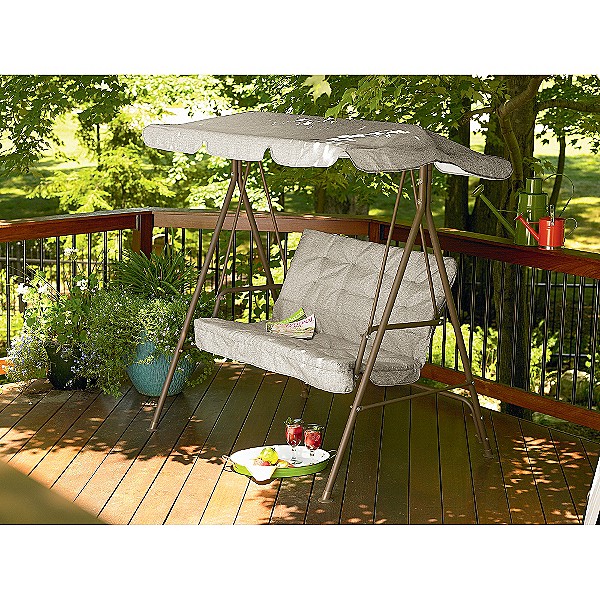 I'm also going to get some plastic drawer closet and organize the closet in our bedroom. It's actually shared with the 3rd bedroom- which will be our future baby's nursery- and right now we're taking up the whole thing, I'm hoping to reorganize it so that the other room can use it too! And THAT room needs cleaned out too... my list is getting bigger!!!
Alright well that's enough rambling! Until later!